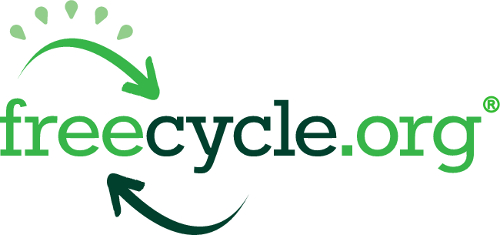 It's time to get back to the
green plan
! Behind the scenes, I'm currently working on a few but finally have marked one off my list ...
Give away something on Freecycle
.
What's Freecycle?

It's a grassroots and entirely nonprofit movement of people who are giving (and getting) stuff for free in their own towns. It's all about reuse and keeping good stuff out of landfills. Each local group is moderated by local volunteers (them's good people). Membership is free.
Go to
Freecycle.org
and search for your city. The Bend group is part of
Yahoo Groups
and all you need is an account with Yahoo to get started.
Many of you
have read the story
about how I coaxed my husband, a few years ago, into giving away his beat up Toyota on Freecycle. I had tried to give it away to the local community college and Habitat for Humanity but no one seemed really interested so we put it up on Freecycle.
A few weeks ago, I sent my husband to the store to buy diapers for my son to take to pre-school. Since he dropped my son and the diapers off at school the next day, I just assumed he bought the right size. Instead of buying a size 5, he bought my son a size 3 and we had all sorts of problems! Since the pre-school threw the box away, we guessed they were a size 3 by comparing them to other diapers.
I had a few options. I could just let the pre-school kept them for another kid or I could Freecycle them. Within minutes of posting, they were off to a new home.
I've also been working on
get something from Freecycle
but I found that I might have to subscribe to the email version instead of the newsletter version as items get taken pretty quick. I posted a few weeks ago that I was looking for used Disney DVDs and I came up with nothing. I'll keep trying!
What's your experience with Freecycle?