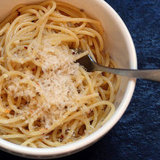 Photo courtesy of Yum Sugar
Since heading back to work from having the baby, dinner has been a challenge. Most of the time, all of us aren't home until 6 pm and by then we're all starving. I have made a quick list of easy, fast and healthy recipes the family can enjoy. I found this pasta dish on Pinterest and it's a twice a month dish in our house that everyone enjoys and gobbles up. Most of the time, I will double the recipe so I can have it for lunch the next day. It's seven simple ingredients that we usually have laying around!
Spaghetti with garlic, olive oil and red pepper flakes
Adapted from
Yum Sugar
Ingredients
7 ounces of spaghetti
2 large or 3 small garlic cloves, minced
1 1/2 teaspoons of chili pepper flakes
1/4 to 1/3 cup of extra-virgin olive oil
3/4 teaspoon of salt
1/2 teaspoon of freshly ground black pepper
Parmesan cheese (add your desired amount)

Directions
The measurements in this recipe can be shifted depending on your taste preferences.
Cook spaghetti according to the directions on the package, until it is al dente.
Strain spaghetti and place in a large serving dish.
Add minced garlic, chili pepper flakes, olive oil, salt, and pepper, and mix together well.
Serve warm or at room temperature.

Serves 2 to 4.